Southwest Michigan Industrial Services
Contact Ezra Lori 269-382-0490 ext.213 for additional information.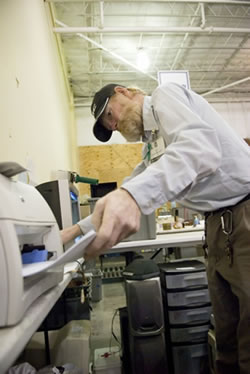 Our employees in the Industrial Services Division provide a wide variety of services to area businesses and industries.
Projects are assumed on a contractual basis with Goodwill assuring a quality work performance. Our work force has been proven to cost-effectively meet both short and long-term labor requirements of area businesses.
We offer flexible production space, transportation, loading docks, material handling equipment, an experienced production team and the willingness to deal with a wide variety of projects that will provide employment and training for long-term production jobs.
Goodwill Industries of Southwestern Michigan is a proud member of the Michigan Manufacturer's Association.
Our in-house production capabilities include:
Product assembly and light manufacturing
Corrugated die-cutting and inner packaging assembly
Chipboard die-cutting and shearing
FDA registered facility
Semi-automatic application of double-faced tape
Sewing
Custom T-shirts
Deburring
Partition Assemblies
Punch Press
3rd party Quality Inspections
Shrink Wrapping
Laminating
Kitting
Packaging
Double-Faced Taping: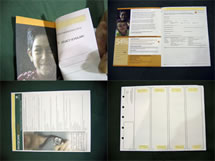 Goodwill Industries of Southwest Michigan's industrial services department is one of very few manufacturers to offer double-faced taping. We can do both spot and strip applications. This capability allows us to meet many unique needs to promote and grow your business! Some uses for Double Faced Taping include: Table Tents, Wall Posters, Business Reply Mailers, Shelf Talkers (Tags), Advertising Calendars, CD Case Mailers, and much more! We deliver quality materials that are on time and on budget. Please contact Ezra Lori for more information and a price quote.
---
Southwest Michigan Custodial Services
Goodwill's Custodial Services Division offers the resources to provide your business with the clean and inviting atmosphere your customers and employees demand, on time and on budget.
Our after hours housekeeping services include: General Cleaning, Mopping, Trash Removal, Rest Room Care, Window Cleaning.
We provide floor care, including stripping, waxing, and buffing all types of flooring.
We can also provide an on-site custodial services attendants, present during business hours, to handle all of your janitorial needs.
---
Goodwill Shirts
Have a specialty job? Let us quote your next custom shirt order for your event, promotional giveaway, uniforms and more. We produce custom shirts in a variety of sizes and colors – quick turnaround times and low development costs!
Choose from Tee Shirts and Sweat Shirts of many colors. Use your own logo and stock up on comfortable, durable apparel for your company or any group!
1 to 2 Weeks depending on complexity of the image(s).
Rush Service (5 business days) is available for a $100.00 rush charge.
Minimum or order of 12, larger orders may require a competitive bid depending on quantity.
Email Ezra Lori or call 269.382.0490 ext 213 for further information or to place an order today!
---
Advantages to Working with Goodwill
To Your Business
An additional workforce without incurring increased payroll costs, bookkeeping, fringe benefits, etc.
Considerable savings in operating capital
Guaranteed results at competitive prices
To Your Community
Increase employment for the disadvantaged
Welfare recipients becoming taxpayers
The creation of more productive workers
To the Disadvantaged
An opportunity for self-sufficiency
Valuable training and work experience
Development of self-confidence and self-respect for the worker