Join the Donate Movement!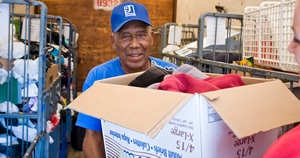 When you donate to Goodwill, you're helping people find jobs. The revenue earned from the sale of donated items helps fund job-training and employment programs in Southwestern Michigan and helps people develop the skills they need to find good jobs.
Your donation of used goods can make a difference for people in your community, and  also help make a healthier planet as well.
Click here to view our Store Locations and Hours.
Tax Deductions
Federal law permits Goodwill donors to claim tax deductions for many financial contributions and for donated clothing and household items in good, used condition or better.  The U.S. Internal Revenue Service requires donors to value their items when filing their tax returns. To help guide you, we have compiled commonly donated items in a Donation Value Guide below. (Please Note: Our valuation guide assumes the donated items are in good condition and that these are estimated values.)
We are pleased to accept the following items:
Clothing: Mens, Womens, Boys, Girls, and Infants
Footwear: Shoes and Boots
Outerwear: Hats, Gloves, Mittens and Scarves
Media: Books, Records, CDs, Videotapes and DVDs
Games and Toys
Housewares: Dishes, Kitchen Utensils, Lamps and Small Appliances
Computers: In partnership with Dell, Goodwill is able to recycle or re-sell your working or non-working monitors, laptops, towers, network equipment, software and peripherals (printers, scanners, mice, keyboards).
Knickknacks and Giftware
Furniture: Dressers, Tables, Bed Frames and Sofas
Antiques and Collectibles
Hardware and Tools
Domestics: Curtains, Linen, Bedspreads, Blankets, etc.
Sporting Goods
Automobiles: Click to learn more about our Workers on Wheels program. We also accept motorcycles, RV's, boats and more! All accepted donations are tax-deductible as provided by law. Be sure to see your Goodwill donation attendant for a receipt.

Large Item Donations (Couches, Dressers, Large Tables, etc.)
The Corporate Office (Alcott Street), West Main (Kalamazoo), Three Rivers, Benton Harbor and Sturgis stores all handle your large donations during store business hours. Click here to view our Store Locations and Hours.
Please do not leave items outside our donation centers or stores after hours! They become exposed to the elements and may be damaged, vandalized, or stolen.
No, Thank You:
Sometimes we may decline a donation if in our judgment it is hazardous or in non-saleable condition. Severely damaged or soiled items cannot be sold and simply cost us money to dispose of. Non-functioning items such as appliances cost us more to transport and repair than they can be sold for in our stores.  We are unable to accept the following items:
Large Appliances: Refrigerators, Stoves, etc. (Except at our Three Rivers Store)
Halogen floor lamps
Hazardous household chemicals,paint, etc.
Food and Perishable Products
Pianos and Organs
Drop-down Side Cribs
Furniture in poor condition
Mattresses
Metal bed springs
Tires, Car Batteries
Televisions
If you have questions about specific items you would like to donate, please call our office at (269) 382-0490.